A Resort is a place where you can not only find rooms and board but also animation, wellness, sports … and to ensure all these performances each Resort disposes of an animation and sport staff.
An animator deals with the leisure time of the guests, above all during the summer season, outside school holidays.
The essential of his work is welcoming all guests, planning their free time, and, if possible, let them forget their sorrows.  He is the real director of the leisure time in touristic villages, resorts, and hotel clubs. Animation is the third working sector in tourism after hotel employees and food. The evolution depends on experience. After some seasons, an animator can become chief animator, who is the responsible of all activity management and public relations with guests. The management of these important areas can open carrier to hotel direction jobs.
 Viva Team Animation
Kids Animation

!
The target is to present unforgettable holidays to kids, thanks to the age-appropriate activities offered in the different clubs. Professionals in the childhood and Youth area have prepared quality programs to let them have fun in total security. In our Clubs, Kids animation has the target to let parents enjoy their holidays, let children meet new friends and both to meet all together in the evening!
A ten-year-old boy has different interests to 17-year-old teens and for this reason, in our villages, each age has a different club: each day different sport activities, creative programs and surprises!  Activity examples: manual activities, big games, treasure hunting and shows!
Sport and fitness animation
A sport animator organizes activities and tournaments in different sports (beach volleyball, football, tennis, table tennis, water ball, bocce, darts, aerobic, aqua gym, stretching etc.) depending on his/her skills and hotel facilities. A fitness animator proposes a gym program which promote the playful size of physical activity. He/She teaches his/her discipline to a various public, both young and adults, observes and corrects the gestures and postures: he/she adapts to the features (sport level, age, motivation) of his athletes.
A sport animator can organize different sport activities, while a sport instructor is specialized in one or some disciplines: tennis teacher, sailing instructor, swimming teacher…..
An all-round animator is a person who deals with organising guests' leisure time, in the full sense of the word. Such an animator does not have any particular specialisation and has to take care of everything, which means for instance, preparing and conducting the guest show or organising and refereeing sports games.
Usually all-round animators are employed in groups (3/4 animators) and they can share the work between themselves, which is the greatest advantage of being an all-rounder.
 Viva Team Animation
Sport and all-round animation

!
Do you want to have a special experience in Italy as an animator?
Animation is a really amusing job which gives us the possibility to see the most beatiful places in the world, eve if animation is not a paradise! It is not always so enjoyable to stay with guests because often we have to deal to unpleasant guests. 
As animator (m/f) you could be recruited for a whole season from Mai to October or for a shorter period but not less than 3 months.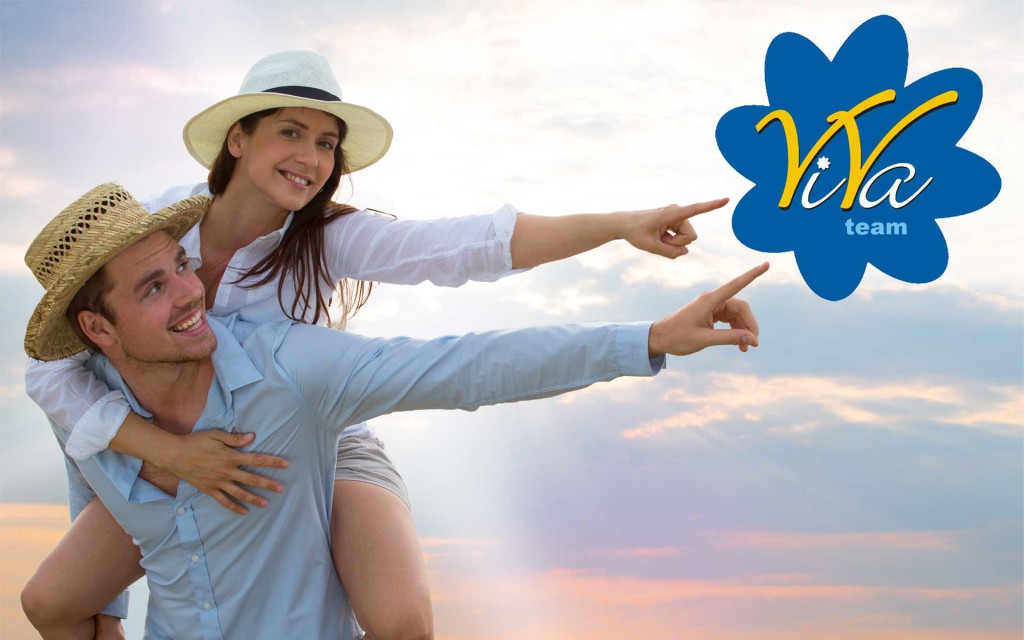 What does Vivateam offer to animators?
Viva Team is an animation agency which works in the touristic field since 2005.

Viva Team is specialized in the recruitment and training of 

human resources

for animation, sport and show. des ressources pour l'animation, le sport et le spectacle.

Viva Team can offer an abroad working experience.
Animators work 6 days a week. The day program depends on the specific role the animator has in the team. Each village has littele different habits but we can show you the standard daily routine of an animator.
09:00 – 09:30 Staff meeting
10:00 – 13:00 Morning program
13:00 – 16:00 Lunch, show repetitions and rest 
16:00 – 19:00 Afternoon animation program
19:00 – 21:30 Dinner and rest
21:30 – 22:00 Baby Disco 
22:00 – 23:00 Staff Show
23:00 – 00:00 Contact with the guests or dancing nights
00:00 – 01:30 Show repetitions if necessary, above all at the beginning of the season
First step
For a season as animator, you must be almost 18-years old, you must be nice and sympathetic, sociable and spontaneous, even under pression and even if tired: an animator must always look happy. If you want to partecipate to our recruitment, you Si vous souhaitez participer à notre sélection, send a CV with photo by mail.
Second step
After receiving your CV, we will invite you for an interview (generally by skype) during which you could ask all the questions you have. The interviewer will ask about your working experiences,  about your sports knowledge, about your experiences with kids and so on.
Third step
If the interview is positive, we will offer you a job offer and a contract and than you will begin your first animation season! The animation department has the target to recruit animation, sport and show staff for all our destinations. We will coordinate your life as an abroad animator: contract, travels, salary , documents and so on.