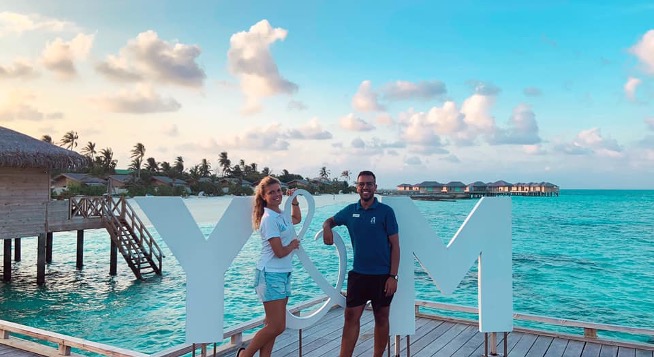 Vivateam selects tour assistants for our partner tour operators. Mainly it deals with professionalism destined to experiences in foreign destinations, in particular Maldives, Zanzibar, Mauritius, Seychelles and Sri Lanka.
Airport reception of the guests of the reference Tour Operator structure. Representation of the structure or tour operator, the company has the face of the assistant. For this reason our task is to introduce the knowledge of the destination, the procedures, the management of transfers and excursions and above all to teach problem solving. The ability to manage and resolve a problematic situation is undoubtedly the most important quality of an assistant.
Description of the profession
The tourist assistant has the task of facilitating the life of guests during a trip or vacation and must try to meet the needs of customers.
Tasks and main activities
The work activity consists in carrying out the initial reception and orientation tasks in the structure; in solving guest problems; in providing information during the briefings or at the information desk, on the places to visit in case of trips and excursions.
The assistant organizes transfers to and from the airport and manages itineraries for excursions and sells them, accompanies groups on excursions, informs guests about everything related to the structure and destination.
To better manage the needs of guests it is necessary that the assistant knows how to better manage relations with hotel staff. It is the assistant's task to prepare the weekly reports, manage the archive and communicate with the headquarters of the company for which he works.
Skills required
No specific knowledge is required to be a tourist assistant: knowledge of foreign languages ​​is certainly important, essential when the guests to be welcomed are of different nationalities, but also to communicate with the local staff ..
Other personal skills and attitudes that should be possessed are polite and correct behavior, courtesy towards guests, patience in solving their possible problems and the willingness to always respond to possible criticisms.
Requirements for accessing the role
To be a tourist assistant it is preferable to have a high school diploma and to know at least two foreign languages ​​(prefer English and German). In some cases, it is required to have a driving license B and a valid passport to work abroad.
Tasks and main activities
Accoglienza aeroportuale/portuale degli ospiti della struttura o dei clienti del Tour Operator di riferimento.

Rappresentanza della struttura o del Tour Operator, l'azienda ha il volto dell' assistente.

Controllo costante delle strutture di riferimento: servizi da catalogo, personale, pulizia, etc …

Conoscenza della destinazione e degli usi e costumi locali.

Conoscenza delle procedure e gestione dei transfer. (pick-up e accompagnamenti di escursioni).

Relazione di fine settimana al capocentro. In particolare per i complaint ricevuti.

Capacità di saper gestire e risolvere una situazione problematica è sicuramente tra le competenze più difficili, ma al tempo stesso essenziali.

La vendita: in particolare di escursioni e servizi delle strutture.