La nostra animazione diurna
VWe want to propose a measured approach with the guest who is involved in a discreet way, leaving each individual the possibility or not to participate.
Modern animation is also increasingly social and based on original and captivating events: this is why our proposals include weekly events between Color Party and Foam Party.
The foam party is a hilarious event that sees a powerful and voluminous spray of foam. The cannon hits all participants with a dense blanket of completely non-toxic, hypoallergenic and non-polluting foam. The Color party is instead an event focused on color that is given by holi color, non-toxic and safe colored talc powders. The holy colors thrown into the air by the participants create crazy effects! And also new second social evenings such as the horror night or the escape room.
We never stop because innovation and experimentation are the reasons for our success.
Fitness
Activities tailored to the specific needs of guests: soft gym, zumba, aqua gym and yoga on the beach; in the fitness area, hard intensity activities such as spinning, step or fit-boxing.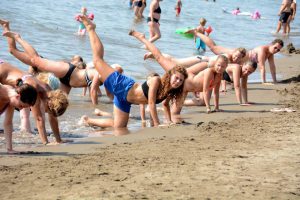 Sport Terra
Tournaments organized with care and passion by professionally trained entertainers and tennis, archery, football school courses structured as in a sports club.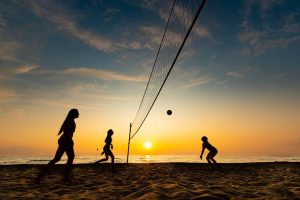 Sport Mare
Nautical bases conducted by patented and expert instructors who know how to offer courses with attention to detail and suitable for the different levels of experience and age of the participants.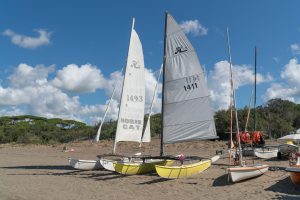 Eventi Social
The big news of the last few seasons is the impact of social media on everyone's life and therefore also on tourism: for this reason we have included a series of dedicated activities.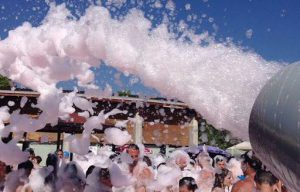 Contatto
An animation that knows how to propose lively moments of aggregation led by animators willing to smile, without neglecting the purely playful aspect.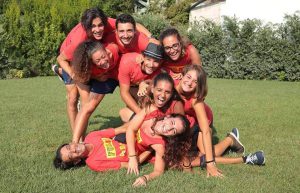 Happening
Always new passages and characters; engaging games and activities every year. Specific costumes and materials. Original music and jingles. Attractions of sure effect.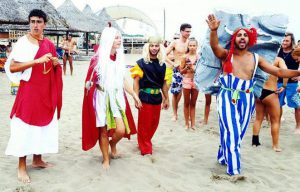 Ai teenager offriamo un'animazione moderna e travolgente
L'animazione è necessariamente più social perché i ragazzi amano condividere le loro vite.

Vanno inserite nei programmi delle challenge da caricare su instagram, flash mob e coreografie per Tik Tok.

Lezioni di hip hop e concorsi di musica trap.

L'animazione deve essere impostata su eventi accattivanti: per questo la nostra proposta comprende eventi settimanali tra Color Party e Schiuma Party.